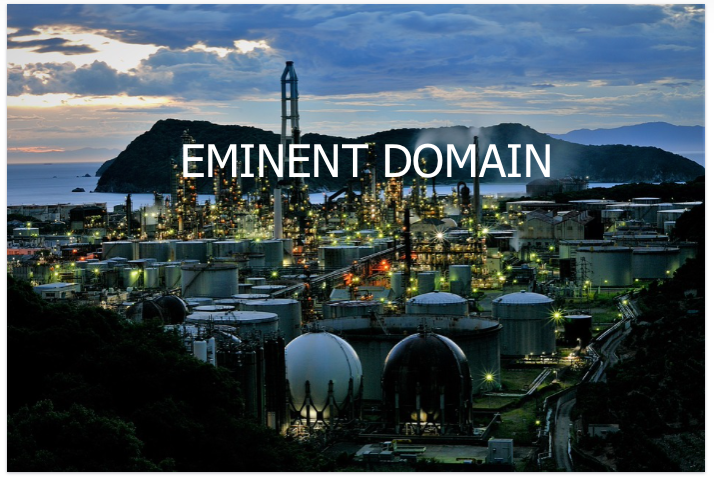 More than one legal organization expects that the Infrastructure Investment and Jobs Act (IIJA) and the Inflation Reduction Act (IRA) approved by the 117th Congress will lead to a significant increase in eminent domain activity. These investments in public works – in the industries of transportation, energy, water resources and broadband – are expected to increase eminent domain activity.
Increased eminent domain cases will increase the need for valuations, and many of those valuations will involve industrial manufacturing and processing facilities.
ASA's Valuing Machinery and Equipment (VME) explains that:
When a public agency needs to acquire private property for conversion to public use, it exercises the power of eminent domain. Often, the property in question is industrial or commercial in character and may contain extensive machinery and equipment. The value definition is mandated by the law of the jurisdiction in which the taking occurs. Generally, it is a variant of fair market value, such as one of the fair market values in continued use concepts … the appraiser should seek the guidance of legal counsel with respect to the appropriate definition or level of value.
In many eminent domain cases, valuation is focused on real property: land and structures. Such appraisals may ignore the value of personal property such as major machinery & equipment – values that are critical to the owners of processing or manufacturing facilities in negotiating a just payment in eminent domain situations.
Valuing machinery and equipment
While the government will order an appraisal of the property being taken, owners of commercial and industrial facilities may order their own appraisal to ensure fair compensation for the entire operation – not just the land and buildings. Commercial and industrial equipment is often specialized, not generally bought and sold in an active public market, and sometimes impossible to relocate. In addition, equipment in many industrial manufacturing facilities requires skilled installation and engineering as well as other costs such as specialized foundations, electrical, plumbing, and other fixtures, all of which add value to the equipment in a continued use scenario.
As suggested in VME, an appropriate value for eminent domain cases would be one of the fair market values in continued use concepts. In eminent domain situations, the value of equipment and machinery – and their indirect costs – can be overlooked or undervalued.
Don't ignore the value of installation
Equipment in commercial and industrial facilities often has a variety of associated installation costs. Installation costs include freight, delivery, engineering, foundations, wiring and exhaust systems, along with other indirect costs necessary to make equipment fully functional in place, such as permits, professional fees, project administration, calibration and more. Calculating the value of this support can be complex and should not be left to chance.
Consider, for example, the recent appraisal of a manufacturing facility. The cost approach was used to value the specialty and installed equipment, and the immediate appraisal problem was determining whether the related support – shipping, installation, taxes and other costs in this case – had been properly capitalized or would need to be considered in determining the final opinion of value.
Solving this problem started with reconciling the equipment list and the accounting records. With the listings reconciled, I used a random number generator to develop a sample of approximately 20 invoices over a specific dollar amount. This sample would be used to determine how shipping, installation and taxes had been recorded. Using records for the sample items, the company's bookkeeper and I determined that staff of the facility had performed most of the installation related to about half of the equipment being appraised; those costs had not been capitalized and would need to be added. It's not uncommon that some installation costs, etc., are capitalized and some are not. It's just a matter of sorting out which is which!
Understanding how installation and other indirect costs adds to the value of equipment and machinery is only the first step. An experienced appraiser understands how to collect, verify, and analyze the appropriate information to develop a reasonable opinion of value and prepare an accurate and credible appraisal report. This can be critical in an eminent domain case, where a short-sighted focus on land and structures can sell the owner short.
The eminent domain process
Eminent domain falls within one of the five protections of the Fifth Amendment: the "Takings Clause" provides protection against the taking of property by the government without compensation. A 2021 FindLaw article explains the details of how the eminent domain process works, beginning with the government's requirement to prove that the property to be taken will be used for a public works project., such as those funded by the IIJA.
The first formal expression of interest will usually involve a written "Notice of Intent to Appraise." The government will then order an appraisal of the property to determine its value, and a property owner may also hire an appraiser to determine a reasonable asking price. In some cases, only a real property appraiser may be needed. But for situations that include retail, warehouse, manufacturing, food processing, other industrial facilities, or agricultural properties, an equipment appraiser will be invaluable. In complex cases, FindLaw suggests that an owner may find it useful to get professional legal advice from an experienced eminent domain attorney.
If the owner and the government cannot agree on a price, the next stop is court, where both parties will present their appraisals and perhaps provide expert witness regarding the appraisal process, methodologies, and validity of the opinion of value.
Choosing an appraiser for eminent domain
When choosing an equipment and machinery appraiser for an eminent domain case, it may not be critical to find an appraiser with experience in eminent domain. What is critical is an experienced professional who is aware of the subtleties of commercial industrial equipment appraisal and the associated complexities, including the various markets and levels of trade. In eminent domain situations, as in other contentious situations, a clear and compelling report may help avoid an expensive and lengthy court date for you, your attorney, and your expert witness.
Jack Young, ASA—MTS/ARM, CPA
NorCal Valuation Inc.